Gentle Orthodontics
With over 40 years experience of treating adults and children - Dr.Miller specialises in "Gentle Orthodontics". He combines modern orthodontic techniques with a strong preference for improving the 'arch shape' whenever possible and not extracting teeth. Because your upper jaw is not 'set back' this produces a much better facial profile with a less obvious nose. It may also result in fewer sinus related problems and easier breathing.
Dr Miller may use a combination of "Clear Aligners", "Train Tracks" and "Arch Expanding Braces" but whatever the treatment protocol, he carefully monitors the treatment progress and adjusts your appliances to minimise both the time of treatment and any discomfort.
Where appropriate, Dr. Miller uses "Clear Aligners". These are almost invisible bespoke, firm and thin, alignment coverings that can lead to treatment times as short as 3 months. When "Train Tracks" are required, he prefers to use porcelaine brackets that again tend to make your appliance less visible.
This treatment is suitable for children and adults of almost any age! Orthodontics can be used for the straightening of crooked teeth, alignment of the gum line, closing spaces between teeth, correcting flared teeth.
Clear Aligners
Comfortable, clear and removable, West Malling Dental "Clear Aligners" are a highly effective way to transform your smile without interrupting your lifestyle. This form of Orthodontics is near invisible on your teeth and because you hardly notice you are wearing them, for many they are the ideal orthodontic treatment. Millions of people worldwide have chosen this system for good reason.
Are you ready for your new smile?
If you decide to use only "Clear Aligner" treatment, we will initially take an impression of your teeth. We'll use these impression to make models. From these, we can visualise how you'll look after treatment.
You'll have the chance to make any changes your feel are necessary, and we'll workout how many steps are needed to achieve your desired result.
Using your aligners
You will need to wear your aligners for most of the day in order for them to be effective. The more you wear them, the shorter your treatment time will be.
As a rule, you should only remove them for eating, drinking and brushing your teeth. However, this is a flexible treatment, so if you need to remove them for a short time, for example for a special occasion, you can do so without hampering your treatment.
We will advise you on how to care for your aligners, and will also tell you how long you should wear each aligner before moving on to the next one.
Your treatment will be reviewed at regular intervals to make sure you remain on course.
Guideline Price
Moderately Complicated Tooth Friendly (No Teeth removed in most cases) Orthodontics - £3500
More Severe Cases - £4500
(includes a complimentary whitening kit worth £450)
Please contact the practice for more information.
Imagine an orthodontic treatment with all the benefits of braces, where no one knows you have them. It's possible at West Malling Dental...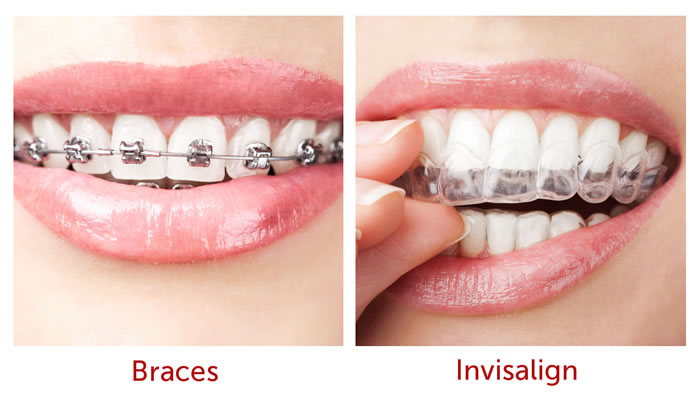 Invisalign is a revolutionary new orthodontic treatment that uses advanced technology to align your smile without the need for traditional full orthodontics. This means:
No train-track braces
No tightening visits
No diet restrictions
By using clear aligner trays that are custom-made to your specifications, Invisalign can effectively straighten your smile more comfortably. We are excited to provide this option for our patients as it is one of the most advanced and popular orthodontic treatments used to date.
Why do patients like it?
The clear aligner trays mean there are no wires to be seen and there is minimal indication that you are receiving treatment. The clear aligners are taken off when you eat so there is no danger of food getting stuck to wires and it is much easier to brush your teeth. Your friends won't know you have braces on because the aligners are made from a clear plastic that blends seamlessly with your teeth. Other benefits include:
Virtually invisible
Totally removable
No brackets or wires
More comfortable
Why do dentists recommend Invisalign?
Dentists like Invisalign as it allows patients to maintain their oral health as they normally would. The removable aligners, such as Invisalign, allow patients to find it easier to brush their teeth so they are able to maintain healthier gums during treatment.
How does Invisalign work?
Invisalign takes a modern approach to straightening teeth. Clear custom made series of aligners are made for you and your unique smile. Aligners are invisible plastic trays that you can wear over your teeth and exert gentle pressure to move the teeth over time, gradually shifting your teeth to the position that your dentist has planned. A new set of aligners are needed every 2 weeks until end of treatment. Treatment duration depends on the complexity of the patient's case, and as such varies from patient to patient. Generally, the usual duration of Invisalign treatment is around 12 months.
How much does Invisalign cost?
This depends on the condition of your teeth and whether or not you will need additional treatment.
Invisalign Prices & Offers...
Prices vary according to the complexity and amount of 'invisible' gentle movement of Your Teeth needed- this is discovered & explained on assessment at your 'records appointment'-but to give you a better idea...starting with the simplest,most rapid Invisalign treatment...
Invisalign I7 - The simplest scenario for small gentle movements of up to 8 front teeth both top and bottom. Treatment time is a maximum of 14 weeks.
£1500 (includes a complimentary whitening kit worth £450)
Invisalign Lite - For cases of medium complexity where up to 4mm gentle movement is required  for any teeth (both top and bottom). Treatment time is around 28 weeks.
£3,500 (includes a complimentary whitening kit worth £450)
Invisalign 'Full'- If some of Your Teeth require considerable gentle movement (over 4mm) to create your Dream Aligned Smile. Treatment time can vary from 30 to 96 weeks (two years).
£4,500 (includes a complimentary whitening kit worth £450)
We are based in West Malling & Kings Hill area, close to Rochester and Sevenoaks.

Faq's about Orthodontics
Simply Smile is made of clear ceramic and is very discreet. If you prefer your brace to be invisible visit www.secret-smiles.co.uk to see lingual braces.
You should follow a healthy diet, avoid sugary foods and also hard crunchy foods which may damage your brace.
Because we are simply improving your smile rather than treating your bite which can take around two years.
The front teeth will be straightened, those seen while you smile. Similar to veneers but much healthier than having your teeth drilled.
As with all orthodontic treatment, we recommend that you wear a retainer to make sure your teeth don't move back to their original position. This can be a small thin piece of wire bonded to the back of your teeth or a specially made removal acrylic retainer worn at night.
The fitting of the brace is totally painless. It is normal to experience discomfort from your teeth for a couple of days following fitting and adjustment.
Not with our Simply Smile brackets which are on the outside of your teeth.
The clear aligner trays mean there are no wires to be seen and there is minimal indication that you are receiving treatment. The clear aligners are taken off when you eat so there is no danger of food getting stuck to wires and it is much easier to brush your teeth. Your friends won't know you have braces on because the aligners are made from a clear plastic that blends seamlessly with your teeth. Other benefits include:
Virtually invisible
Totally removable
No brackets or wires
More comfortable